Filing a bankruptcy is not like buying a can of Classico spaghetti sauce; instead it is like getting a new pet.
Shopping for bankruptcy help based on solely on price will have dreadful results; like losing your tax refunds.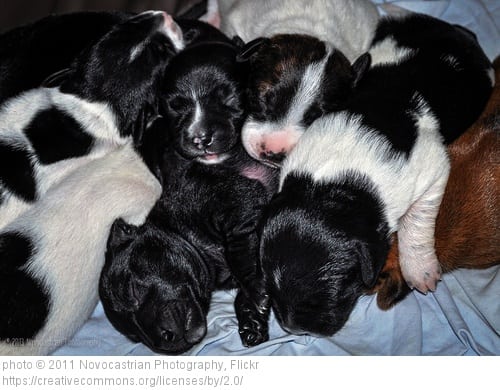 Filing a bankruptcy is not like buying a can of Classico spaghetti sauce; instead it is like getting a new pet. Now you think I am crazy, but I have your attention. You can shop the same brand of sauce in several stores and buy the cheapest one because you are assured that the same recipe is in each jar.
Use that same analogy to getting a new pet. All the puppies in the litter look similar. You have no way to know which one will become a biter or continually shred everything in the house or yard. When you first get your new pet there is great excitement and expectation for a very rewarding partnership.  A bankruptcy is like that new pet. With great advice, proper planning and a little luck the bankruptcy will go through without a hiccup. But, without all of those you will face a nightmare.
Broken Promises: Bankruptcy Attorneys Promise to Help, but End Up Causing Horrible Damage.
Hiring an attorney off the Internet can be the beginning of a nightmare:
Many attorneys pay for client leads from companies on the Internet.  Never hire an attorney this way.  The attorney pays for placement on the site (perhaps a company on the east coast), then pays for each lead and/or pays for leads based on zip codes or other criteria. Again, you will not receiving any type of reference as to the attorney's ethics, quality of practice or professionalism.  Assume the attorney is lying and make sure to investigate any claims.
False and Misleading Advertisements:
If anyone says they "have a 100% success rate", run away because no bankruptcy attorney (no matter how experienced and committed they are) has a 100% success rate.  An attorney is required to be honest in any advertisements, yet a few attorneys, such as Mr. Forrester, an Arizona attorney, misrepresented his skill and experience on the Arizona State Bar site, plus many other public sites.  As of October, 2019, Mr. Forrester has only practiced for 7 years in bankruptcy and many of the areas of "expertise" are ones that he has never done – such as international bankruptcy, international insolvency, chapter 12, bankruptcy trustee rights, at least according to the records of the Arizona Bankruptcy Court.  In his Nolo site, Mr. Forrester says that "100 percent of our clients that have made the decision to retain us have had their debt eliminated and have obtained a Fresh Start".  According to research done by this office in September 2019 – between 2016 and 2019 Mr. Forrester filed approximately 153 chapter 13 cases, of those approximately 93 have been dismissed (which means that his clients did not receive any relief, but not have a bankruptcy on their credit reports).  Hopefully some of those cases are reinstated, but why was it necessary?  How much trauma did it cause his clients?
I tell you this to warn you  – follow your gut and do your own research.  Do not rely on reviews because many are fake (just like 'fake news').  Do I hope that Mr. Forrester will ask for help from experienced bankruptcy attorneys so he can do a better job helping his clients?  Definitely – I will be the first to offer my help (as I have done with many other attorneys who were having a tough time).  Only time will tell.  Please let me know if he corrects his advertisement so I can edit this post.
I wish I could say that Mr. Forrester is the only such Arizona attorney, but I cannot.  His just the case I am currently involved in, so have specifics about his practice after talking to several of his ex-clients and other attorneys trying to help his ex-clients.  Arizona has seen many attorneys disbarred or orders entered prohibiting them from practicing bankruptcy law, below are just a few:
We have several videos on our web site. Below are just a few that might be of interest:
The following are some good resources to consider in hiring a lawyer:
"Suggestions on How to Hire an Attorney"
"Why I Offer Free Legal Advice."
Share This Post: