Citigroup to Pay Fannie Mae $968 Million and BofA to pay $10.35 Billion as a result of faulty mortgages.
The answer is "yes"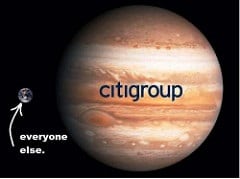 Citigroup said on July 1, 2013 that it had agreed to pay the mortgage finance giant Fannie Mae $968 million to resolve any claims on 3.7 million mortgage loans that might sour.  In January, Bank of America agreed to pay Fannie Mae about $3.6 billion to compensate for faulty mortgages and $6.75 billion to buy back mortgages that could have resulted in future losses for the government.  The bank also agreed to sell to other firms the right to collect payments on $306 billion worth of home loans.
Citigroup said the settlement would apply to troubled loans as well as any potential future claims on loans that originated between 2000 and 2012 that were purchased by Fannie Mae, which was bailed out by the government during the financial crisis.
Citigroup, like many other banks, sold off millions in mortgages to the government, which repackaged them into mortgage-backed securities. Many times, borrowers defaulted — sometimes within months of taking out a mortgage — causing huge losses for the taxpayer-supported Fannie Mae.
Click here to read the rest of the article…
We have several videos on our web site.  Below are a few that might be of interest:
"Lender's Foreclosure Rights in Arizona"
"Should I keep my home or let it go into foreclosure?"
"Meet Ms. Drain and Suggestions on How to Hire an Attorney"
MUSINGS BY DIANE: "Mortgage companies, payday lenders, auto lenders and banks have decided that we are all deep pockets.  They seem to hatch schemes to take the hard earned money from anyone they can.  Those who are suspicious of the large institutions behavior are seen by those around them as "paranoid".  Remember if someone is out to get you (or your money) you are not paranoid.  Never trust those who have financial incentive to mislead you.  Do your homework first.  Check them out on the Internet (great and powerful tool for everyone – con artists too).
You worked hard for your money, make it work for you, not for others."
Diane is a well respected Arizona bankruptcy and foreclosure attorney. As a retired law professor, she believes in offering everyone, not just her clients, advice about bankruptcy and Arizona foreclosure laws. Diane is also a mentor to hundreds of Arizona attorneys.
*Important Note from Diane: Everything on this web site is offered for educational purposes only and not intended to provide legal advice, nor create an attorney client relationship between you, me, or the author of any article. Information in this web site should not be used as a substitute for competent legal advice from an attorney familiar with your personal circumstances and licensed to practice law in your state. Make sure to check out their reviews.*
Published On: October 28, 2023

When a debtor is in Chapter 13 bankruptcy, it is not unusual that their monthly payments are made through a plan rather than directly to the mortgage lender.  At the end of the year, the mortgage lender is likely to send Form 1098 (mortgage interest paid through the year) to the trustee, not the homeowner.