Citigroup to Pay Fannie Mae $968 Million and BofA to pay $10.35 Billion as a result of faulty mortgages.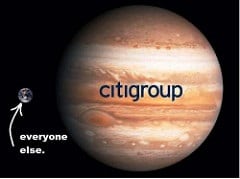 Citigroup said on July 1, 2013 that it had agreed to pay the mortgage finance giant Fannie Mae $968 million to resolve any claims on 3.7 million mortgage loans that might sour.  In January, Bank of America agreed to pay Fannie Mae about $3.6 billion to compensate for faulty mortgages and $6.75 billion to buy back mortgages that could have resulted in future losses for the government.  The bank also agreed to sell to other firms the right to collect payments on $306 billion worth of home loans.
Citigroup said the settlement would apply to troubled loans as well as any potential future claims on loans that originated between 2000 and 2012 that were purchased by Fannie Mae, which was bailed out by the government during the financial crisis.
Citigroup, like many other banks, sold off millions in mortgages to the government, which repackaged them into mortgage-backed securities. Many times, borrowers defaulted — sometimes within months of taking out a mortgage — causing huge losses for the taxpayer-supported Fannie Mae.
We have several videos on our web site.  Below are a few that might be of interest:
"Lender's Foreclosure Rights in Arizona"
"Should I keep my home or let it go into foreclosure?"
"Meet Ms. Drain and Suggestions on How to Hire an Attorney"
Share This Post: