Law suit against Department of Education – loan forgiveness program for millions of public service workers is in such a shambles that it violates federal law and the Constitution.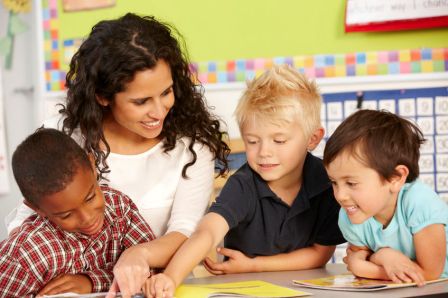 July 11, 2019 – Article by National Public Radio: Debbie Baker (not the lady in the picture) thought she qualified for a federal program that helps teachers such as her, as well as nurses, police officers, librarians and others. The Department of Education program forgives their federal student loans if they make their payments for 10 years and work in public service.
For 10 years, Baker, who was a public school teacher in Tulsa, Okla., checked in with loan servicing companies and was told she was on track.
"I said, 'I'm qualifying for public service loan forgiveness,' and they said, 'OK, great,' " she says.
But it turns out that her $76,000 in student loans didn't get forgiven. Baker was finally told she was in the wrong type of loan. If she'd known that at the beginning, she could have switched loans and ended up qualifying. But she says nobody ever told her.

CONSUMER FINANCIAL PROTECTION BUREAU SPOTLIGHTS BORROWER COMPLAINTS ABOUT STUDENT LOAN SERVICERS MISHANDLING PUBLIC SERVICE LOAN FORGIVENESS PROGRAM
Consumer Bureau Launches "Certify Your Service" Campaign to Help Teachers, First Responders, and Other Public Servants Stay on Track
June 22, 2017 – The Consumer Financial Protection Bureau (CFPB) today issued a report spotlighting complaints from borrowers about student loan servicers mishandling Public Service Loan Forgiveness.
The Public Service Loan Forgiveness program provides people in public service jobs with a path to debt forgiveness after 10 years
The Public Service Loan Forgiveness program provides people in public service jobs with a path to debt forgiveness after 10 years, with the first borrowers eligible in October 2017. Borrowers report that servicers delay or deny access to loan forgiveness through wrong information about their loans, flawed payment processing, and bungled job certifications. The CFPB also issued updated guidelines to prioritize oversight of servicers' administration of the Public Service Loan Forgiveness program.  Also, the Bureau is launching the "Certify Your Service" campaign to help public servants stay on track for federal loan forgiveness.
"Borrowers have told us about student loan industry practices that delay or deny access to expected help such as the Public Service Loan Forgiveness program," said CFPB Director Richard Cordray. "We want those in public service jobs who give back to our communities to be able to stay on track, and not worry about unnecessary debt due to servicer errors."
"We've promised our teachers, nurses, first responders, and other public servants that they have a path to a debt-free future if they make their payments on time while serving our communities for a decade," said CFPB Student Loan Ombudsman Seth Frotman. "When the companies responsible for delivering on this promise aren't up to the task, our dedicated public servants shouldn't  have to pay the price."
---
These include teachers, social workers, first responders, servicemembers, nurses, and other public health professionals.
The Public Service Loan Forgiveness program, launched in 2007, is meant to encourage people to enter public service despite increasing levels of student loan debt. For these borrowers, this program can relieve the financial stress caused by unmanageable student debt and lower-wage public service work. To be eligible, borrowers must have a qualifying loan; be enrolled in a qualifying repayment plan, such as an income-driven repayment plan; and make 120 on-time payments while working for a qualified public service employer. Student loan servicers are responsible for administering these requirements.
The report highlights complaints about servicing problems that may knock borrowers off track as they seek loan forgiveness earned through their public service and guaranteed by federal law. The report analyzes complaints from March 1, 2016 through Feb. 28, 2017. Some borrower complaints describe industry practices that delay or deny access to promised loan forgiveness, forcing some to forfeit months or years of qualifying service. This can add hundreds or thousands of dollars to the total cost of borrowers' student debt. The report spotlights borrower complaints about:
Incorrect or insufficient information from servicers about loan forgiveness eligibility
Processing delays and errors that cause borrowers to miss out on qualified payments
Job certification problems that knock borrowers off track
Click here for the updated Bureau manual for student loan servicer supervision

"Certify Your Service" Campaign
In addition to the report, the Bureau is also announcing "Certify Your Service," a consumer education campaign to empower student loan borrowers working in public service to protect their progress toward loan forgiveness. It includes guides developed specifically for first responders and teachers about what programs are available, which ones are best for each individual's circumstance, and how to get on the path to loan forgiveness. The Bureau is also updating its tools for employers to help their employees get started in the Public Service Loan Forgiveness program, and tips for helping employees stay on track. Public service employees aiming for Public Service Loan Forgiveness should:
Make sure they have the right type of loans
Enroll in the right repayment plan
Certify that the work is in public service:
Stay on track
Student loan borrowers experiencing problems related to repaying student loans, including the problems identified in today's report, can also submit a complaint to the CFPB.
Click here for more information on CFPB consumer guides and tips for loan forgiveness


MUSINGS FROM DIANE:
The Public Service Loan Forgiveness program was designed to help teachers, nurses, firemen, police and other public servants find a way to reduce their student loans, while serving our communities.  Do I believe that military should be included – definitely, but I was not asked :-(  Many of these dedicated people planned their adult lives around this program with the expectation that their student loans will be forgiven after several years of underemployment.  They put off buying a home or even raising children.  Now to find that the program is mismanaged is sickening (but not surprising).
Diane is a well respected Arizona bankruptcy and foreclosure attorney. As a retired law professor, she believes in offering everyone, not just her clients, advice about bankruptcy and Arizona foreclosure laws. Diane is also a mentor to hundreds of Arizona attorneys.
*Important Note from Diane: Everything on this web site is offered for educational purposes only and not intended to provide legal advice, nor create an attorney client relationship between you, me, or the author of any article. Information in this web site should not be used as a substitute for competent legal advice from an attorney familiar with your personal circumstances and licensed to practice law in your state. Make sure to check out their reviews.*